I am now of the age and stage in my life where I'm participating more in the execution of Thanksgiving. Contributing more dishes, even hosting. It can be intimidating to try and live up to the Thanksgiving traditions of the past. So don't!
Create your own.
My dear friend and fellow creative type, Rachel, has helped me come up with three distinctive styles for Thanksgiving or Friendsgiving gatherings. Use any or all of our ideas to pull off a stylish event, with savory and sweet elements, plus cocktails! Just add turkey!
Moody Modernist Menu
These offerings use things I already have on hand in new and tasty ways, incorporating Rachel's Mid Century Modern décor for presentation. We started with a bold-patterned runner, added metallic candleholders and layered in elements of gold to tie things together. Using a sleek martini glass dresses up the soup and gives guests the green light to go bottoms-up at the table.
-Buttercup Squash Soup, inspired by Martha Stewart's version of butternut squash soup.
-Sweet Potato Skins, a nod to the classic candied yams dish, as adapted by me. It scratches the itch without tipping the scales. (recipe below)
-Stuffing in a Bundt Pan, Kim's Healthy Eats and A Spicy Perspective both posted such ideas on Pinterest. I used those instructions to give it a shot, using the recipe for stuffing from Fresh Fork Market.
-Cranberry Ginger Champagne Cocktail, 2 oz. ginger infused vodka (I shaved small slices of fresh ginger and placed them in a jar of vodka in the fridge for about a week), 4 oz. cranberry juice, a generous splash of champagne, and a dash of lime juice.
-Pecan Pie Bark, like Rachel's contribution to this blog, the recipe comes from a guest blogger on Wishes n Dishes incorporating all the flavors and a fraction of the effort it takes to get those distinct flavors of the traditional dessert.
Comfort Food Chic Menu
Every dish in this menu incorporates one or more element of leftovers! Great for an evening gathering during the long weekend. Keeping it casual, the packing paper serves dual purpose as a runner and a place for guests to scribble what they are thankful for. Wood, wicker, copper and linen add texture and warmth, while a tiered stand lets the food take center stage. (recipes below)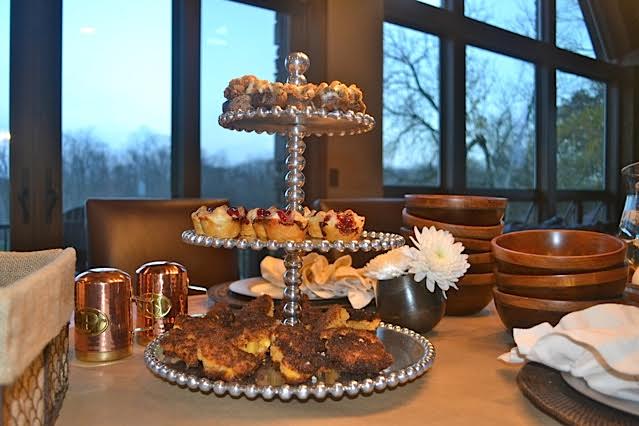 -Sriracha Fried Mac n Cheese Bites take leftover macaroni and cheese and give it new life, and a kick! Served with Sriracha Ranch Dipping Sauce.
-Stuffing Stuffed Portabella Mushrooms Didn't polish off all the stuffing at the main event? No problem. Use my version as a starting point and make it your own.
-Mini Baked Brie Bites, proof that cranberry is a perfect complement to creamy Brie cheese. Take what's left of the Thanksgiving cranberry sauce and make this satisfying appetizer.

-Apple Pie on the Rocks This seasonally spicy sipper will even satisfy the vegan in the crowd. Source: Vegan Yack Attack

-Pumpkin Roll Ice Cream Sandwich A scoop of butter pecan ice cream smooshed between two thin slices of my favorite fall dessert, with some fall sprinkles for color.
Friendly Farmhouse Menu
To me, this collection makes for a great brunch menu, perfect for those hosting out of town guests during the holiday. No matter the time of day, always include fresh floral on your table. We threw sunflowers in a grey pitcher to complement the ticking stripe napkins. Stacked plates and a silverware caddy let guests grab what they need without interrupting a busy host.
-Sausage Stuffing Quiche created in individual "minis" or bake a large one to slice up at brunch. The "stuffing as crust" idea courtesy of a post on Food.com but, like I did, you can use whats around to add to the egg.
-Sweet potato chips with garlic aioli, the recipe for the dipping sauce came from a fellow blogger, Our Life Tastes Good. I deep fried the thinly sliced-sweet potatoes, but you could bake them instead.
-Green Bean Casserole Cups (this could also make use of leftovers). Take your family's version of the thanksgiving staple and serve it in a new way. For step-by-step instructions go to www.Pillsbury.com.
-Apple Cider Mimosas, make the bottomless brunch beverage more seasonal by swapping OJ for cider.
-Loaded Halloween Candy Cookie Bars, a childhood friend and fellow food blogger, Michelle, of The Secret Ingredient Is helped me out with this one.
In the spirit of Thanksgiving please share your creations with us @cheftovers @roaringacres #friendsgiving #thanksgiving.
RECIPES:
Sweet Potato Skins
Ingredients: 4 yams or sweet potatoes (baked ahead of time and cooled), 8 T. melted butter, pinch of salt, 2 T. Brown sugar, ½-1 tsp. each of ginger and cinnamon, ¼ t. nutmeg, marshmallows
Directions: Slice potatoes in half lengthwise and scoop out about half of the inside. (Careful, as the skins of these are more delicate than russet potatoes). Melt the butter in a small sauce pan and add brown sugar, nutmeg, cinnamon and ginger. Stir until it forms a syrup, then remove from the heat. Brush the mixture over the potato skin and place in the oven to broil on HIGH for about 5 minutes, until the edges start to get crispy. Remove from the oven and sprinkle with mini marshmallows. (5-7 per potato) Place back under the broiler, on LOW, for 2-3 minutes, until marshmallows are toasted.
Sriracha Fried Mac n Cheese
Ingredients: Leftover mac n cheese, flour (seasoned), 1 egg (beaten), Sriracha hot chili sauce, panko bread crumbs, salt and pepper, blended oil, ranch for dipping
Directions: Place spoonfuls of mac n cheese onto a baking sheet, lined with parchment paper or foil. Put the tray in the freezer for at least 25-30 min. Heat a deep skillet (cast iron if you've got it) to medium high and pour in about 2 inches of oil. Remove tray from the freezer and dredge each mac n cheese pile in flour. Add 1 T. of Sriracha (more or less depending on how hot you like it) to the egg, and coat the floured bites in the mixture. Finally, cover each one in panko bread crumbs. Fry the bites in the oil until golden brown, turning once. Place on paper towel to drain. Serve with ranch for dipping. (Add a dollop of Sriracha to that too if you so desire.)
Mini Baked Brie and Cranberry Bites
Ingredients: Frozen puffed pastry (sheets or squares), leftover cranberry sauce (preserves, like blackberry, can also be substituted), Brie cheese (wedge or round)
Directions: Preheat oven to 400 (or the temperature listed on the baking instructions for the puff pastry, if different). Thaw frozen puff pastry dough for 20-25 min. Cut the pastry into 2-3 inch squares. Place a pastry square over each cup of the mini cupcake tin and gently push them down, so as not to tear the dough. Insert a cube of cheese into each one, about 1-2 inch squares. Gather the corners of the squares to the center. Some of the cranberry will still be exposed. Bake for 18-20 minutes. Cool for 3-4 minutes, then gently pop each bite out with a butter knife.
Stuffing Stuffed Mini Portabellas
Ingredients: Mini portabella mushrooms (washed, stems removed), leftover Thanksgiving stuffing (the kind with sausage is the best!), grated fontina cheese, truffle oil (optional), extra virgin olive oil
Directions: Preheat oven to 350 degrees. Place mushroom caps upside down on a baking tray and drizzle with olive oil. Season with salt and pepper. Stuff each mushroom with a spoonful of stuffing (about a tablespoon, depending on the size of the mushroom). Fill it up and pack it tightly. Drizzle a bit of truffle oil on top (optional). Sprinkle cheese on top to cover. Bake for 25 min.